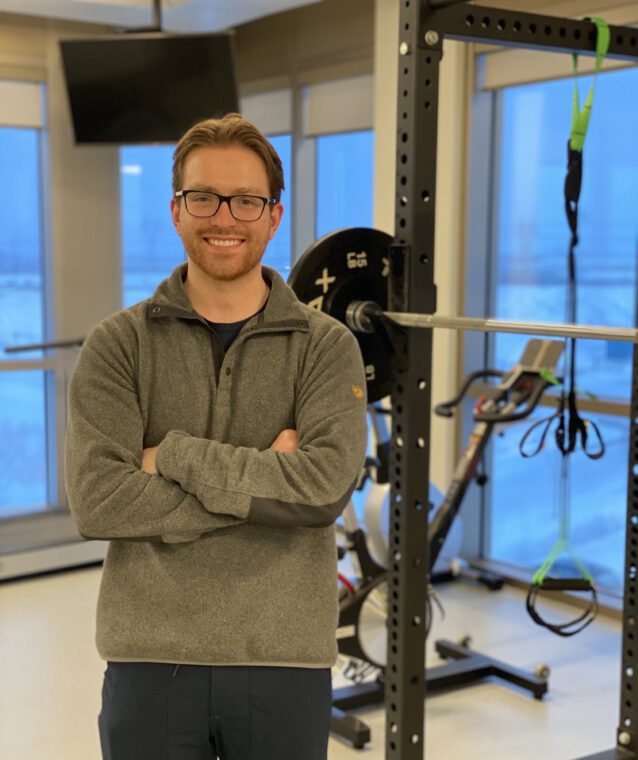 Physiotherapist
Austin Holt: MScPT, BKIN.
Austin joined Athletes Advantage Physiotherapy (now part of Advantage Sport Medicine) as an undergraduate student in 2016 and has been with us ever since! Since then, Austin has proudly worked with us as a Kinesiologist and now, as a Physiotherapist.
Austin graduated with distinction from the University of Alberta with a bachelor's degree in Kinesiology, majoring in Sports Performance. During this time, Austin worked as the Varsity Therapist for the University of Alberta Golden Bears men's ice hockey team. He was a valued member of the multidisciplinary team involved in the prevention, immediate care and rehabilitation of athletes' injuries during the sports season and offseason. Through this, Austin has had opportunities to work with local and foreign professional ice hockey teams. Austin was inspired to pursue physiotherapy as a profession after fracturing his spine in 5 places playing hockey. Physiotherapy allowed Austin to get back to the things he loves most: hockey, lacrosse, skiing, and rock climbing.
Upon graduation, Austin moved to Dublin, Ireland, where he completed his Master of Science in Physiotherapy at the University College Dublin with First Class Honors. While abroad, Austin found his passion for sports medicine and orthopedic rehabilitation while working with members of the Ireland national men's rugby squad, Irish club soccer and hurling teams. Austin has also worked at the National Orthopedic Hospital of Ireland, where he saw various sports injuries and orthopedic surgeries such as rotator cuff repairs, knee ligament repairs, meniscal repairs, and discectomy/ spinal fusions.
On the side, Austin has created exercise intervention programs for various small communities in Ireland and the United Kingdom that he continues still today and has published research in obesity and weight management in the Journal of Physiotherapy.