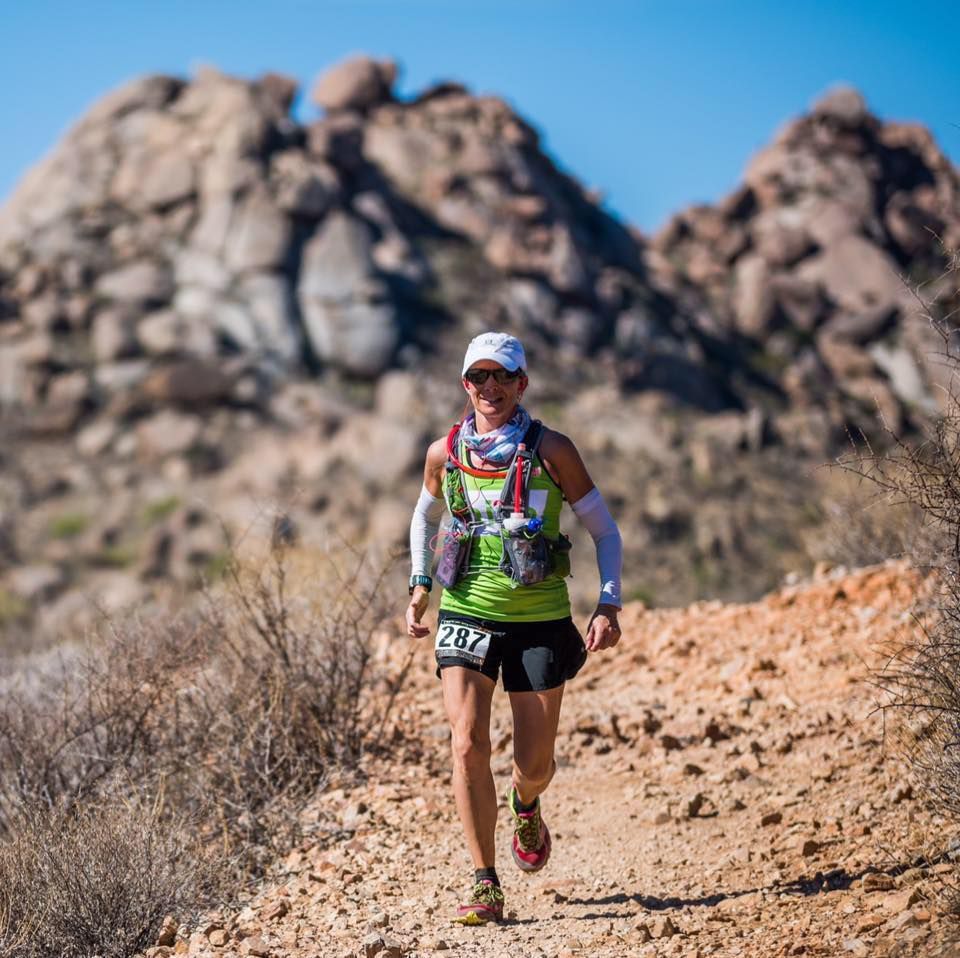 Pushing the limits and attempting to keep it all together…
I had a big 2016 in every aspect of life: work, training, traveling, racing and throw in a few personal road blocks and bumps in the road!
As an Ultrarunner, I try very hard not to get "caught up in the excitement vortex" or have FOMO (fear of missing out) syndrome and run races that I didn't plan or train for. As the general manager of a company, coupled with my training requirements and the personal "need" (maybe a tad OCD) to be organized, I usually plan my "big A Races" for the year ahead. This helps me budget for my traveling, plan my vacation time around my work commitments, and train for (as well as taper for) my races accordingly.
In 2016 my three big A races were the Dawn to Dusk to Dawn 24 hour in May, where I wanted to re-qualify for the 24 Hour Team to represent Canada at the World Championships (I qualified with 194kms/120.5 miles); the Canadian Death Race at the end of July, I wanted to run this because this was my first ultra where everything "started" 10 years ago; and the Javelina 100 mile, where I wanted to see if I could break 20 hours. I had several smaller races in between to help me prepare for each of these. In addition to following a very regimented training schedule I ensure that I include weight training sessions, sports massages and regular "physio tune ups" with my incredible physiotherapist Norm. I find that one just can't run and run well when you are logging almost 100 miles a week and working a full time job, and with my training, work, weight training, massage and physiotherapy visits, my schedule is quite hectic! So when the Javelina 100 mile was coming up at the end of October, I was quite excited not just for the race, but because once the race was done I would get to have a bit of an "off season"… a more relaxed running schedule, do a bit of cross training, relax on my eating a bit and perhaps go on a few adventures with friends that I normally turn down so I can focus on what's on my training schedule. Well, my "plan" took a bit of a turn just three weeks after the hottest race I have ever ran (it was 39C/102F at the Javelina 100 mile). I got an invitation to the coveted Desert Solstice 24 Hour track invitational which was to take place on 10/11 December back in Phoenix where I just came from three weeks ago… this race only invites the best 100 mile and 24 hour runners in North America (capped at 30 runners). I thought "oh my gosh, I have been eating whatever I have wanted, I have just started back on a regular running routine and finally feeling recovered from a HARD 100 miler, what do I do?!?"
Knowing, however, that I was smart in the last three weeks with my recovery, having had two visits already with my sports massage therapist and my physiotherapist, I was running again and feeling pretty good. I went to my boss (the owner of the companies I run) and he said that if I wanted to do it, he would support me. Then I wrote to my coach and asked her what she thought… based on our discussion we decided that I shouldn't turn down the opportunity. Also, we knew that I had "nothing to lose", where I already had a qualifier, but if I had a really good race there was a chance I could move up in the rankings within Team Canada, further securing my spot on the team. I reached out to a few people that day asking "should I do this", including Norm. I went to see Norm the next day and he looked things over. I asked him "Norm, can I do this"? Norm and I talked about the physiology of the body, how I have been training, tapering and recovering properly. He was clear that my body had recovered from his perspective because I take care of myself, he knew that physically I could do it, but it was my mind that I would have to work on over the next few weeks. However, I am known to be "a bit" stubborn and pretty strong minded… so boom, I was committed… I went home and booked my flights.
My coach Ellie put me on a mini training plan; I followed it, ate well, trained and had a couple of massages. I flew back to the desert only six weeks after leaving there the last time. On Saturday morning, December 10, 2016 when I stood on the track with several of my crazy ultra-buddies, I wasn't really sure what was going to happen. I agreed with Ellie and Norm that I would assess how I felt after 50km and again after 100km. I had a few struggles between the 50 and 100km, but these struggles were not what I was expecting (I will spare most of the details but I couldn't stop going to the bathroom). After 100kms is actually when things starting coming around for me. When I reached the 100 mile mark I was over two hours slower than I was at D3 in the spring but man, I felt REALLY good!! I only had three hours left to "see what I could do"… a lot of people dropped that day but thanks to several people's encouraging words we decided I was going to "stay the course" and have another "learning experience". I ended up running 23 kms in the last three hours, which was the most I have ran in the last three hours of a 24 hour ever! So, I ended up running 183.5 kms, only six weeks after a hard 100 miler.
One of the biggest victories for me was that I had my personal best second half of a 24 hour, and I now know that I can run more that walk in the last six hours of a 24 hour. The other thing that Norm, my coach, and a few others pointed out — I have managed to do this injury free. How?!? Why?!? We think it is because I "balance things", I listen to my "team", I have a schedule and I stick to it. I truly believe that in order to be a good runner (or whatever your sport of choice is) one must strength train, get regular physiotherapy to keep everything "in check", get regular massages, train the mind (it's a very powerful enabler), eat well, take recovery days, and don't bite off more than you can chew!