Taking Care of your Pelvic Health
Pelvic health can be an uncomfortable topic for most, but here at Advantage Sports Medicine and Physiotherapy, we want to reduce the stigma and offer you the best treatment. Pelvic health is important for all ages and both genders and can assist with low back pain, pain in the vagina, testicular pain, pain with intercourse, urinary urgency/frequency, and bladder pain. At our St. Albert location, we have a physiotherapist with specific knowledge of pelvic health and concerns.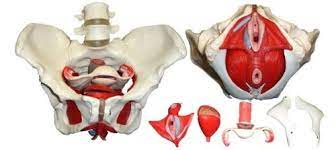 What is Affected and Why
When referring to pelvic health, we are speaking directly about certain organs such as the bladder, uterus and vagina (for females), prostate (men), and rectum. All of these organs must work together and are very important for everyday functioning. Pelvic health issues have many causes including surgeries, consequence of medication, trauma, lifestyle/diet, and pregnancy labour and delivery.  Pelvic health conditions can affect all ages and the most common complaints are incontinence (bladder leakage) and pelvic floor dysfunction, which is the inability to relax and coordinate the muscles of the pelvic floor.
What to Expect
At Advantage Sports Medicine and Physiotherapy, your first visit will be 60 minutes of one-on-one time to perform a detailed subjective history and an internal and/or external examination (of the hips and back), with your consent, if deemed necessary. In your subjective history your physiotherapist will ask questions to better understand your current state of health and your experiences with your condition.  A physical exam may be needed to help your physiotherapist isolate the cause of your issues. Our physiotherapists are highly trained, sensitive professionals, who will maintain your comfort by providing privacy while changing, providing a gown, and allowing a second person in the room if you consent. 
Come See Us
At Advantage Sport Medicine and Physio, want to increase your self-esteem to be able to do social and physical activities that are meaningful to you! We can achieve this with manual therapy and exercise. A lot of people suffer from pelvic health conditions and it is time to reduce the stigma. Here is a video clip of our pelvic floor physiotherapist, Kimberly Dice, introducing her services and explaining more about it. 
References:
Pelvic Floor Disfunction. (2020, May 6). Cleveland Clinic. Retrieved June 1, 2022, from https://my.clevelandclinic.org/health/diseases/14459-pelvic-floor-dysfunction